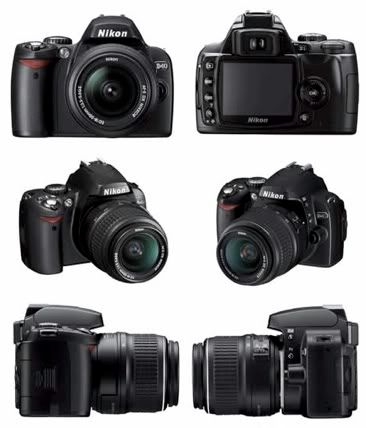 The Nikon D40

It is the so-called entry level Single Lens Reflex (SLR) camera. It was designed by Nikon with beginners in mind. It is easy to use, affordable and has great features and I want one!

Here are some of the features of the Nikon D40:


6 megapixel DX format CCD (1.5x FOV crop, as D50)
Nikon Image processing engine (as D80 / D200)
3D Color Matrix Metering II, 420 pixel sensor (as D80 / D50)
New Multi-CAM530 three area AF sensor
ISO sensitivity range 200 - 1600 plus HI 1 (3200 equiv.)
Custom Auto ISO (selectable maximum ISO, minimum shutter speed)
2.5 fps continuous shooting (as D50), unlimited in JPEG
No status LCD, new LCD monitor based status / settings screens
Help suggestions on LCD monitor (eg. scene too dark, try using flash)
Large 2.5" 230,000 pixel LCD monitor
Bigger viewfinder view (x0.8 magnification, 95% coverage)
Short shutter lag and viewfinder blackout
Support for SDHC (SD cards over 2 GB in capacity)
In-camera retouching

D-Lighting (shadow / highlight enhancement)
Red-eye reduction
Trimming
Monochrome
Filter effects
Small picture
Image overlay

USB 2.0 with PTP and Mass Storage device support
Very compact, light body (smaller, lighter than D50)
Improved menu user interface (as D80 / D200)
New EN-EL9 Lithium-Ion battery (7.2V, 1000 mAh)
New 'Version II' AF-S DX 18-55 mm kit lens
Cool isn't it? Hopefully, I'll get one in a few month's time. :) Wish me luck!